By Brian Williams
Photos by Brian Williams, Cindy Butler
The scene is 25 years ago. Three young cavers enter Climax Cave in South Georgia to check out the previously unexplored underwater passages and sumps. They carry single steel 72 cubic foot tanks, one regulator, some exploration line and a few underwater lights. Guy, Sheck and Court begin their exploration in the southern area and connect several pools before the end of the trip. Returned trips are planned and new techniques are constantly being developed to make the dives safer and longer, however the equipment still must be carried in through the sinkhole entrance, a few tight squeezes, and some drastically long crawls, to reach the area of exploration. This sets the stage for the sump surveys of Climax Cave.
From 1976 to the present day, more cave divers would come to explored and survey these sumps, connecting many and ultimately mapping over 1800 ft of passage. The first 10 years of exploration was accomplished by some of the pioneers of cave diving including; Guy Bryant, Sheck Exley, Court Smith, Lewis Henkel, and Paul Smith.
Twenty-five years later, only a few of the original explorers are still around and interested in a return trip to the sumps of Climax. Guy Bryant had recently been in contact with Cindy Butler and me regarding some underwater cave survey we were doing for the DEP in Suwannee River State Park. Several discussions with Cindy concerning dry caving and Guy decided he'd like to revisit Climax and see if there is any going passage left to explore. Cindy contacted me about help with this project and like the idiot that I am, I said, Sure, that sounds like fun.
Having been to Climax many times and lead several trips through this cave, I knew how tough the logistics of sump dives would be. Cindy had not been in the cave before so she still maintained that innocent notion of ease and had no idea just what she was getting in too. Well, I did give her some idea of how bad it was, but if you have never been in a particular cave you can still fool yourself by saying, "How bad could it possibly be?"
Well, on this trip, I can answer that from these quotes sent to me after the Climax Sump expedition of 2005.
You know it was a bad cave trip when…
the next morning even your ear hurts.
if you had missed the trip for some reason it would have been a good thing!
on the way out you keep thinking about never ever going caving again.
unlike Becky I will not do that trip again.
on the way out, you seriously consider leaving everything you brought in.
you finally get all the gear back to the entrance, and you seriously consider leaving all of it at the entrance so you don't have to drag it back up the hill
you finally get all the crap back to the truck and you seriously consider leaving it all on the side of the road because you are pretty certain it's all just a bunch of mud anyway.
it hurts to stand up the next day.
it hurts to sit down the next day.
it hurts to bend over the next day.
it hurts to take a shower the next day…..so you don't.
Ok, enough whining… on with the trip report.
Cindy and I managed to enlist the help of several cavers from Florida, Tennessee and Georgia. A few cavers bailed at the last minute ( read: wised up at the last minute) but we still had enough to get the job done with a few modifications of the plan. If we only had modified the plan…
Most of the unwitting group arrived Friday night and set up camp at Tim Lewis's Havana Hide-a-Way. Last minute preparations were made, gear was packed and a final plan was agreed on… sort of… Some adult beverages were consumed and lies were told before finally getting to bed around midnight. The next morning we woke up bright and early, well, that's half right, and headed off to breakfast. We met the rest of our group at Climax around 9:30 am Saturday morning. We needed to get an early start because it was destined to be a very long day. The lucky contestants on this trip included: Guy Bryant, Cindy Butler, Brian Williams, Guy Yates, Jason & Chrissy Richards, Becky Dettorre, Pat Weeks, Debbie Meeks, David Lizdas, Matt Vinzant, and Danny & Annette Brinton.
Most all the cavers on this trip had been in this cave at one time or another in the past but it had been 2 years since I had been in to lead a trip. I had no idea how bad the sand crawls were filled in or what the conditions were inside the cave and only a rough idea of where to go to look for Peggy's Pond. We looked over the map and decided on a plan. At this point the group spreads out and heads down to the sink. I'm last down and am already getting pissed because I needed to take pictures. Guy Bryant had planned to do an article for the NSS News and wanted some photos to accompany it. With half the group already in the cave and most of the gear down, this was already starting out to be a challenge. I should have given up on the photos at this point but I managed to get a few anyway. After we are all on the bottom and headed in, someone spots a small water moccasin all curled up and quite agitated. Most of the cavers give him a wide berth and proceed on around, but I had to stop for a few photos.
Guy Yates takes the lead through the Sand Crawls as the rest of the group file in behind with their respective loads of gear. I'm last, so I can't really tell how bad it is up ahead but when I encounter thick gooey mud after the first 50 ft, I know we are in trouble. There are 12 cavers dragging gear for 4 divers. Gear assortment consisted of 4 steel 72's, dry suits, wetsuits, lead, harnesses, dive lights cameras, and the list go on.
I get word at the end of the line that the crawls will need to be dug open. I have brought in a small shovel and trowel and pass it back to the front. Guy Yates and Jason Richards begin to dig and pass sand back to Cindy as she finds little holes and depressions in the crawl way to fill in. Thirty minutes pass and Chrissy and Matt relieve as they continue to dig through the restrictions. An hour later we are on our way again, pushing, pulling and cursing the gear through the mud and restrictions. Although the walls had been significantly enlarged during the Bruce Brewer recovery, the recent rains have filled in the floor with sand and mud and it's almost back to normal for these passages.
The thick gooey mud just got thicker as we approached the end of the crawls. At the Breakroom, 12 muddy cavers sat in stunned silence as we fished through the muddy packs for water and food. It had been 4 hours already and we were just getting started.
We pack up again and head off in search of Peggy's Pond. The plan was for Cindy and Guy to dive first and check out the old end of the line and for me to get a few pictures for the article. After resurfacing, Cindy and Guy will turn over their tanks with 2/3rd's air to Jason and me and we will attempt to map the side passage loops that had not been previously surveyed. Well, that was the plan anyway.
The group spreads out through the breakdown, and at the Tee Room, scout groups start heading in different directions looking for Peggy's Pond. Jason locates a pool of water first and sends word for Guy to have a look. It was not the sump we were looking for so we go back to the search. No one was having much luck so Matt and I pull out the map. We head for a sump in the same passage as the Pool of Naked Frogs. This is the sump Guy said should be Peggy's Pond. After bringing Guy over, he decides it does not look familiar to him and we were still not where he wanted to be. I go on up ahead and find the PONF and show it to Guy, explaining that
this sump has to be Peggy's Pond. I also found a dive line tied off below a boulder and heading straight down into the sump. After some discussion, we decide it might be best to start at The Pool of Naked Frogs as the entry are look ok and at least we know where we are starting from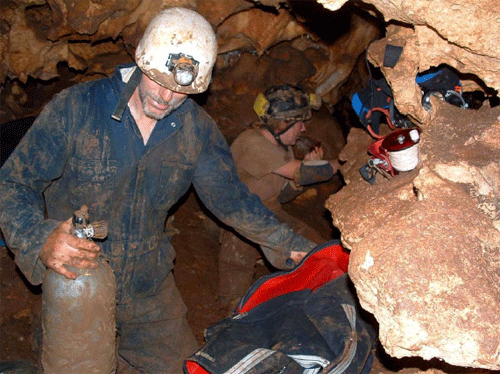 We break out all the dive gear and try our best to wipe off the bigger globs of mud. Guy and Cindy gear up and make their way to the PONF. They lower themselves over a ledge and down into the water. Chrissy, Guy, Debbie Matt and Jason then hand the tanks and Guy and Cindy do their final in water preps. Due to all the silt initially stirred up, Guy headed in the opposite direction of where he wanted to go. When they reached the Junction, they headed over to Razor Hall, surfacing to re-plan the dive. They headed back down the line and surfaced in a sump surprised to see Jason standing there looking down. Now Guy knew for sure this was definitely Peggy's Pond. He had not recognized it due to the water levels being higher than the last time he was there.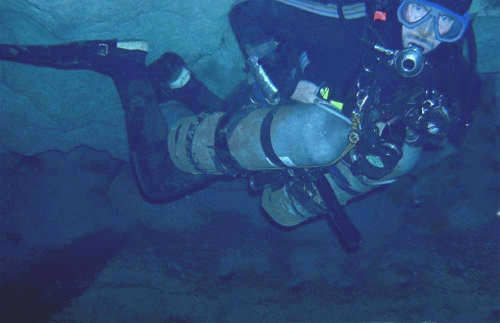 We drag all the remaining dive gear and muddy bags over to the edge of Peggy's Pond where Guy and Cindy are waiting. Cindy and Guy then go back down and head to the end of the line. As they reach the area, Guy notices that someone had added onto his line, probably from Buddy Sander's trip into the cave. This line is followed for a couple hundred feet and is beautiful and quite large. They note a couple of leads that have no line. Passing these, they continue on the main line till the tunnel is starting to get low and small. Turning the dive on thirds they head back to Peggy's Pond. Exiting the water Guy relays to Jason and me what they had found.
At this point we have been in the cave over 8 hours. Brian and Jason had originally planned to dive solo after Cindy and I were done, and so had brought one drysuit between them. As everyone else was getting tired and Cindy was ok for another dive, plans were revamped again and J and I decide that it in the best interest of time, (and the awaiting sherpas), Jason and Cindy would make the next dive and check the new leads Reaching the leads Cindy and Guy had discovered earlier, Jason begins to add line. They go a couple hundred feet and run back into the main line. Jason ties in and starts to cut the line when he realizes he has forgotten his knife so he looks for a rock to cut the line with. All the rocks are soft and just crumble. Cindy has unfortunately also forgotten her knife so instead of leaving the reel, they opt to turn the dive and just reel back out.
Its 9 hours now and we still have to get out. We pack all the gear and start the grueling journey back to the entrance. Guys gear is now packed in a wet wetsuit and is heavier than the trip in. He starts hauling his gear back to the Tee Room and realizes how tired and beat up he is. Guy enlists Matt an me (since we are the only ones back there) and we grab his heavy ass bag with bad handles and trade off Matt's smaller bag. Matt and I end up at the back of the pack with Matt fighting with one giant bag and me dragging two steel 72's backwards through the mud of the sand crawls. Now that was fun !!! NOT.
Eleven hours after entering the cave we are back at the bottom of the entrance sink. Half of the group has already made it to the vehicles but Matt, Guy Yates and I are facing a mound of muddy gear at the bottom of the drop. Guy Yates goes up and lowers the rope as I hook up the gear and Matt and Guy drag it all up to the bottom of the sink. Cindy Becky and Debbie then begin relaying it up the slope toward the trail. An hour and half later we have all the gear hauled out of the entrance pit and back to our vehicles. Total time on this trip, a back-breaking 12.5 hours.
I think we have all had our fill of Climax Cave sump diving for quite a while. There are still some leads to check and unmapped tunnels to survey, but that's for the next fools, er, I mean hardy adventurers to do. This trip was made possible by the strong backs and excellent attitudes of the 12 cavers who participated. Thanks to all. We all would especially like to thank Ben Long for allowing us to cave and dive on his property and once again continue the exploration of one of Georgia's longest caves… Climax.