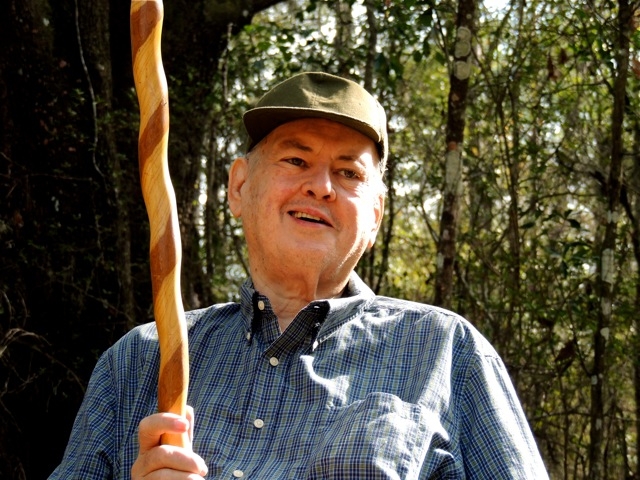 After the holidays and a little time off, it wasn't long before the FSS was back
to doing what it does best. Gathering its forces and pitching in when and where
the need arises. So when the call came out from one of our veteran cavers, John
Harris, that we needed to spend some time at one of our grottos senior members
house, Bill Oldacre, and lend him
a hand with some roof and yard work, the response
was swift.
Most cavers are aware that Bill Oldacre is synonymous with Warrens cave preserve.
Any of us who have been through Warrens cave owes a debt of gratitude to him and
others of his caving generation for the dedication and persistance that made the
protection and access of Florida's longest dry cave possible.
Over the years Bill has been troubled with health problems. His wife Shirley and
he did what they could to maintain
their property and their storm damaged roof.
Thats when John stepped in and offered the grottos long overdue assistance. He
brought the matter to our attention on Thursday night at the meeting and the work
began on Friday and was resumed on Sunday and Tuesday. A dozen or so of us met at
Bills on Saturday to tackle the roof. Everyone was happy to pitch in where they
could. Bernice and Steve Nemeth laid out a spread for lunch and fed us during our
break. The weather was great and the work got done fast. Bill and Shirley were
great hosts. Kitty saw the opportunity to interview Bill for an article in our
upcomming cavort guidebook. It was good to see him and hear his laugh.
As a caver, I was proud to be working side by side with my friends on this project.
I believe we all shared a feeling of accomplishment when we left. I would have
liked to have been there
on Tuesday to help finish up the job. Hopefully, I can
help the next time we head out to Bill and Shirley's.
Thanks Bill and Shirley for allowing us to help. Thanks are also in order to John
Harris for taking charge and mobilizing the troops who i won't bother naming in fear
of leaving someone out. You all know who you are. Thanks again for the huge effort
and once again showing what the FSS stands for.
Article by Mike Gorden and Kitty Markley
All photo's by Jon Singley