A Visit to Becky's
Story and photos by Brian Williams
3-12-05
Many of you may know a good caver friend of mine, Becky Dettorre (we call her Becks). She recently moved to Nashville, TN to a new job at Vandy and some new friends at the Nashville and the Central Tennessee Basin Grottos. Although she abandoned us here in Florida to live the good life of a TAG caver, we still love her, and wanted to visit her at her new house. (Really just one more excuse for a TAG trip)
Becks' old roommate, Renuka Bisht, wanted to visit her also, and even wanted to do some caving. She had been in a couple Florida caves but nothing up in TAG. This was a good time to get together with old friends and let a new caver experience some of the good stuff. We had decided to meet Becks at Fricks Cave for the annual "Open House" held by the SCC so cavers get a chance to visit this important endangered Gray Bat roost. The plan was do Fricks then some more caving on our way up to Nashville.
But wait…there's more. Another friend of mine, Jeff Holloway lives just south of Atlanta. In addition to being another friend I got hooked on caving, he also has 600 acres just up the gorge from Sequatchie River cave. Bonus ! We had first investigated his land about 4 years ago just after he purchased it. At that time we had discovered several new possible leads on his property, including one stream passage cave that we dug into and found over 800 ft. of nice walking stream passage replete with bats, salamanders, cave crayfish and even some formations. The end of the passage had a 15 ft waterfall that we have not climbed yet to check for further passage. This cave has sat virgin since that day 4 years ago, waiting for us to return and start a survey. Since then, Jeff had discovered several new blowing leads he wanted me to check out.
So with a big plan for the weekend and truckload of gear, Renuka and I hit the road at midnight Friday heading north. At 8:30 am Saturday morning we were taking a nap in the truck in front of E.T. Davis' house and the entrance to Frick's Cave. As we were shaking off the cobwebs in our head from a long road trip, and talking to Buddy Lane, we spy a familiar aqua-colored Feista rambling up the gravel drive. "Becks is hear, yippee! " After we finally got through our hello hugs, we suited up to check out the cave. E.T. came out and introduced himself and Buddy had said no one had been in yet that morning so we were anxious to check it out for any signs of the Grays. Saw lots of little browns but no grays, which was good, because we did not want to disturb them if they were in residence at the time.
The cave is set back in the ridge in front of a beautiful little stream. The entrance is a big tilted square opening. It's a wonderful little stream passage cave and we were immediately in the water once inside the cavern area. The stream was at normal water levels so we got wet only up to our knees in the deepest place. About 1500 ft. back the stream passage turns into a huge breakdown pile. Climbing this mini mountain you are rewarded by piles of Gray bat guano and a few very nice formations. We continued on past the main hibernacula and into two more large chambers. Upon our exit we encountered many cavers coming in and the closer we got to the entrance, the more cavers we met. This must be the big family gathering for the year up there because I saw some of the tiniest little cavers I've ever met. They all looked like they were having a great time….I just didn't know you could get caving coveralls that small. The youngest kid I saw was 1 year old and his proud dad was taking him into his first cave… cool as hell!
When we got back to the field and changed clothes, we stretched out on E.T.'s flatbed trailer and took a long nap in the warm Georgia sun. Waking up we were surprised to find the field packed with caver vehicles and even more caver families. What a great way to spend a lazy afternoon. Soon we loaded up and headed north looking for another cave to show Renuka and some grub to quiet our growling stomachs.
After fueling up and getting up the road a ways, we decided to stop at a good ole standby, Cedar Ridge Crystal Cave. It's really a treat to take a new caver into this cave, and I always find something I haven't seen before. We did mange to find at least one cave salamander and of course you can't "swing a dead possum in there without hitting a formation". (Since we forgot to bring any possums in with us, we managed to keep from hitting any formations. ) Renuka was duly impressed and at each new discovery we heard her exclaim, "Oh my gosh" "Oh my gosh". You know, it's really cool when you take someone new to a neat cave and they appreciate everything from the tiniest helectite to the most massive columns. Just one of the great things about caving.
Next we hit the road again and decided to not stop till we reached Meca, better known on this trip as Becks house in Nashville. We enjoyed some nice hot showers then it was off too chow at the local Tex-Mex restaurant and bar.
Next day we got up early (early for TAG anyway) and hit the road south to Jeff's land. We had to cross over at Monteagle and head east to Palmer, TN where we met Jeff and his dog Doby at his hunting camp near one of the many creeks on his land. He had the fire going and a big slab of tenderloin that smelled wonderful. We took the girls down to the creek to show them the swimming hole and when we came back the tenderloin and coffee was ready. Even though Becks and Renuka are mostly vegetarian, the smell of that grilled pork, the cold bite of morning air, and just being out there in the woods, enticed them to have a small portion of the meat. It was delicious and Renuka was still talking about it the next day.
We all piled in my truck, including Doby the cave dog, and set out to explore the gorge. Jeff took us on the grand tour and showed us Pap's Point (named after his dad) where you could see for a couple of miles down the gorge. Next we were treated to the site of a new waterfall that he had just discovered last year. He has a total of 4 major falls on his land and this one was another beautiful set of falls, cascading down a moss-covered slope and plummeting 100 ft. to the base of the bluff. The gorge on his land has a large creek running through it and beautiful pools of aquamarine water and many smaller shimmering waterfalls and cascades. Oh yea, there's lots of potential for caves too!
After the waterfall we parked the truck one final time and grabbed our packs to head off down into the gorge proper and see what we could find. Ridge–walking in TAG is strenuous to say the least but we covered a good bit of ground up and down that gorge, passing bluffs and rockfalls, smaller caverns looking for anything that might be a lead. Jeff took us to a fissure cave high on the bluff. He had a dig just above it that had been a blowing lead. The lower entrance was a wet cavern with titled slabs of rock and a small fissure going back and getting smaller with each foot. This was "Green Salamander Cave". There is some potential here but lots of better leads closer to the bottom of the gorge so we moved on.
Jeff showed us some old Indian rock shelters with evidence on the ceilings that fires had been used inside. We also spent some time just enjoying the bluffs and walking through all kinds of boulders and cliffs. We discovered several smaller caverns but nothing exciting…until we headed to the lower elevations. First thing we stumbled onto was a small pool of water flowing from under a large rock outcrop. Jeff had been up and down this creek many times but had overlooked this entrance. After walking closer to the creek and looking back it was evident why he had never seen it. The entrance pool was hidden by a small rise and you literally had to walk right up on it before you noticed it. As Jeff was checking out above the cave and I was getting a GPS coordinate, Becks was busy changing into her polypro for a quick dip in the pool to see where the water was coming from. One thing for sure…that water was cold!!!!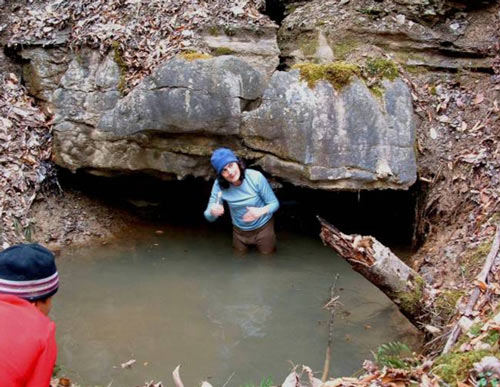 The entrance was a duck under with just one small room where the water came from a passage about 1 ft. high by 1 ft wide. This was going to be a digger. We checked the area around it and two more similar entrances with water pouring from the side of the ridge. All these we got GPS for and left them to another day of digging.
We headed further downstream to check a lead at the very bottom of the ridge and right next to the creek. This was a vertical fissure where the creek separated and a portion flowed into the entrance. I had checked this lead out several years ago and found a fissure 15 ft. deep, then managed a squeeze into a small room with two boulder chocked pits. Jeff checked this lead out last year and discovered the same thing but removed some of the boulders. At the time we were there, the water flow was too high to enter so we took a power bar break, a few photos, then headed upstream. One more going lead was found that we worked on with the rock hammer until I was able to squeeze down to the frigid water and look far enough up the passage to decide there was no way I was going to belly crawl through 45 degree water today to see if it went. This location was also GPS's and saved for the next trip.
As we headed upstream, Jeff took us on a quick tour of two more of the beautiful waterfalls and peaceful pools that grace his land. The hike was fantastic and the company was outstanding. Jeff invited us back to do some digging and begin survey of the cave we found 4 years ago. We decide on sometime in June after spring turkey season was over. Ridge-walking up and down that gorge is not so bad, but being mistaken for a turkey and possibly getting an ass full of lead while bending down too check out a going lead… well… we'll just wait till June.
The trip home to Florida the next day was brutal. Traffic stopped on 75 as far north as Cartersville. We jumped off the highway and hit the back-roads. Thirteen hours later we were finally back in Gainesville. This is why I try to only travel only between midnight and 8:00 am on a road trip to TAG. A long trip can be tiring but it also can be a learning experience. Renuka is originally from India and great company for the long drive. Being diametrically opposed on political issues, we try to avoid that topic. But we got a CD player and even though she knows quite a bit about American culture… still has a lot to learn about country music, Jimmy Buffet, parrot-heads, hillbillys, and rednecks!!! Next trip, we'll explore more cultural phenomenon including the all night fireworks and beer store and maybe even a bowl of grits!